1 Year Since Paramount Murcia Promise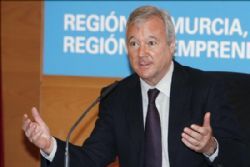 It was one year ago today that the Former Regional President of Murcia, Ramon Luis Valcarcel, proudly told members of the Spanish Press that "significant changes will happen with the Paramount Murcia theme park project within the next 12 months".
12 Months down the line from such a dramatic statement, and Tumbit would like to know what these said significant things are.
Sure, there has been some movement in recent weeks, but nothing of any magnitude and nothing certainly to encourage confidence that the facility will be operational anywhere close to the promised date of opening.
Perhaps the thing of most significance is that former President Valcarcel - a man perhaps more famous for his inability to complete any one project, than anything else - chose to escalate his political career and exchanged Murcia for Brussels.
He should fit in very nicely.
Recommended Reading :
* Paramount Murcia : "Significant changes within 12 month"
* Murcia's President resigns, Corvera pressures denied