Earthquakes hit Southern Spain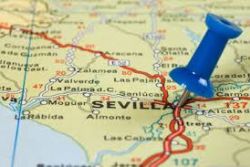 An earthquake measuring 4.3 on the Richter Scale hit areas of the south of Spain in the middle of Tuesday afternoon.
The quake, which had its epicenter close to the town of Montellano in the province of Seville, happened at 15:38, local time, was felt throughout the province and also in the provinces of Huelva, Malaga and Cadiz.
The quake took place at a depth of 8km below the surface and although emergency services received around 50 calls, there are no reports of any damage, even though the movement of the earth was clearly perceptible.
"It lasted for three or four seconds, which were very intense. This has happened to us before, but never as strong as this," Francisco Serrano, the major of Montellano told Spanish television network, RTVE.
Tuesday's activity follows seismic events in Lorca, Murcia, this weekend, where a quake of 5.1 on the Richter Scale caused nine deaths and extensive damage May 11, 2011, and from which parts of the town are still recovering.
Spain's National Geological Institute (IGN) also reported further, lesser tremors also occurred in the province of Malaga - notably Antequera and Fuengirola - on Wednesday afternoon.
The south of Spain is close to an important fault-line between the Eurasian and African plates, which causes relatively frequent minor quakes, usually with little or no damage.
Recommended Reading :