Spanish to become 'dominant' language in UK schools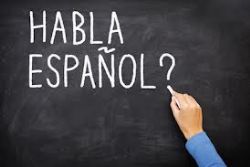 Spanish will soon become the most commonly-taught foreign language in UK schools, the head of one of the country's biggest exam boards has said.
The prediction by Andrew Hall, chief of executive of AQA, comes after the subject bucked the national drop in GCSEs taken this summer to record a record number of entries.
While French and German declined in line with the overall cohort, there were 93,028 Spanish entries, up almost 2,000 from last year and more than 20,000 from 2012.
French remains the most popular language in schools with 168,042 entries, but this dropped from 177,288 in 2013. The number of German entries also went down, from 62,932 last year to 59,891.
The number of entries in the main foreign languages has increased since 2008, but the overall decrease across all subjects this year – attributed to a sharp fall in the number of early entries – led to French and German entries falling for the first time in six years.
Spanish, however, "goes from strength to strength" and could soon become the "dominant language" in UK schools, Mr Hall said this morning.
"It's catching up fast, and I think it's only a question of time before the most popular language studied in the UK in Spanish." He added that the rise was also due to "savvy students" spotting the rising economic power of Spanish-speaking Latin American countries.
Brian Lightman, general secretary of the Association of School and College Leaders, said many students found Spanish easier to learn than other foreign languages.
"It's very similar to our language in many ways," he said. "It's quite a straightforward structure. They find French more difficult, particularly because of the accent and so on.
"A lot of schools have found it's a very popular subject. A lot of people go on holiday to Spain and so there's been a motivation [for them to learn it].
"But the key thing for us is that people should be learning languages full stop… I remain concerned about the drop in languages overall. We're doing a lot to try and promote it. We need the government and employers to promote it as well."
While there was a slight drop in the proportion of students achieving both A* and A*-C grades in French and German from last year, the A*-C pass rate in Spanish increased by 0.2 percentage points to 72.3%. However the proportion of A* grades dropped from 13.1% to 12.5%.