Spain Apologises To Moroccan King Over Guardia Civil Gaff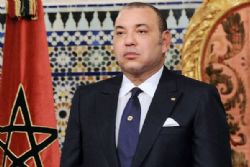 Spain has been forced to formally apologise for the actions of it's over zealous Guardia Civil after attempting to board a Moroccan Royal Yacht.
King Mohammed VI of Morocco and his entourage were enjoying some downtime aboard his Royal Yacht, accompanied by several smaller craft including jet skis, off the northern coast of Morocco when a Guardia Civil navy launch, allegedly searching for people and drug traffickers, approached the royal flotilla.
After a small exchange of words, the Guardia Civil officers attempted to illegally board the Royal Yacht to establish the identity of the occupants onboard and their intentions.
Furious with the unwelcome interruption and the lack of respect extended to him, King Mohammed exclaimed "Do you know who I am...", however the officers at that point did not.
After removing his cap and sunglasses, the Guardia Civil officers immediately recognised the Moroccan Monarch. King Mohammed VI called his Spanish counterpart, the newly appointed King Felipe VI of Spain to complain.
The incident took place on the 7th August 2014, just days before the mass exodus of migrants from northern Morocco crossed the Gibraltar Straight attempting to seek asylum in Spain.
According to reports in Spanish newspaper El Mundo and repeated in the online version of The Telegraph, a message was passed from the Spanish royal household via the interior ministry to Colonel Andres Lopez, the head of the Guardia Civil in Ceuta, who was immediately dispatched to the Moroccan Yacht to personally apologise.
It's not the first time overzealous Guardia Civil officers and Spain overall have sparked an international incident by over stepping their authority and more importantly outside of its jurisdiction.
Only last week, Guardia Civil Navy officers caused a serious international incident and risked being blown out of the water after breaching the maritime boundary surrounding Gibraltar into British territorial waters and intentionally passing within a security exclusion zone setup around 2 nuclear submarines, American and British, being escorted into port.
The Spanish government also stands accused of leaking the classified naval manoeuvres of the submarines to the Spanish press.