Spain would veto an Independent Scotland entry into EU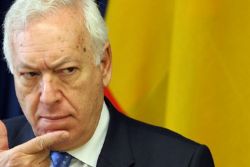 A former president of the EU's Finance Council has said that Spain would veto EU membership if Scotland becomes independent from the UK.
Ruairi Quinn, an Irish politician and former president of the EU's Ecofin Council in 1996 when finance ministers decided on the economic criteria for member states joining the new euro currency, also predicts Belgium would veto Scotland joining the EU.
Both nations have deeply entrenched separatist sentiments with Catalonia and the Basque Country seeking independence from Spain and the region of Flanders from Belgium.
Mr Quinn said that Spain "will not want to create the precedent" of a region "deciding to leave and join the EU in their own right" given the secessionist movements in Catalonia and the Basque Country.
Catalonia has long sought a referendum on independence from Spain which has always been vehemently refused by Spain's central government on the grounds of being unconstitutional, but in reality the wealthy north eastern region is not something the Spanish state will give up easily.
Frustrated by Spanish state meddling in its affairs, Catalonia is garnering support from the international community in its quest for independence.
Similarly, an independent Scotland may also encourage the wealthy region of Flanders to seek independence which would impoverish the rest of Belgium. Scotland's first minister, Alex Salmond has gone on record claiming there would be no issues re-joining the EU, however it doesn't appear to be so clear cut.
Sir David Edward, a former judge at the European Court of Justice has said that the Scottish Government's Policy White Paper is "incompatible with EU law and could not survive challenge in the Court of Justice".
Mr Salmond has said Scotland's currency would retain the British Pound should Scotland win independence, however Scotland would be "legally obliged" to join the Euro single currency if the correct economic conditions are met said Mr Quinn.
UK Politicians across all political parties have rejected Scotland retaining the British Pound if Scotland gains independence.
Spanish Foreign Affairs Minister, Jose Manuel Margallo (pictured above), speaking to the Financial Times in February earlier this year said "Spain will not interfere in Scotland's quest for independence and potential entry to the EU" – However, Spain is notorious for changing its position despite giving it's word and Margallo wouldn't be drawn on whether or not Spain would veto Scotland's entry into the EU.
What is clear is there will be many eyes eagerly watching the Scottish independence vote and depending on the result, may in fact turn out to be an historic turning point within the EU and its member states or an almighty fluff-up which kick starts its eventual demise.