Germany will back Spain's de Guindos as Eurogroup head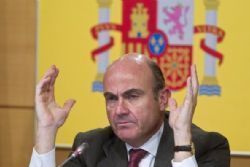 Germany will back Spanish Economy Minister Luis de Guindos as the next head of the Eurogroup of euro zone finance ministers, replacing the Dutch finance minister, Jeroen Dijsselbloem, Chancellor Angela Merkel said on Monday.
Merkel's support for De Guindos came before talks this Saturday among EU leaders, who are expected to discuss nominations for several top European Commission posts among other issues. Dijsselbloem's term does not end until mid-2015, but his replacement may come up this weekend.
Merkel gave her support at a joint news conference with Spanish Prime Minister Mariano Rajoy in the northern Spanish city of Santiago de Compostela, at the end of a two-day visit.
"Luis de Guindos has been an excellent economy minister in difficult times," Merkel said, adding Germany would back his candidacy once the term of the current president was up.
De Guindos has served as Economy Ministry in the centre-right government of Rajoy since it took power in 2012 - the year Spain found itself at the heart of a growing eurozone crisis.
He had to steer through deep spending cuts as Spain tried to rein in its gaping deficit. He also oversaw an EU41.3-Bln European bailout of the country's ailing banks.
Recommended Reading :
* Further reforms needed to secure European jobs : De Guindos