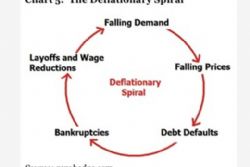 A report issued earlier today by Spain's National Institute of Statisics (INE) has underlined fears that deflation may cause further problems as the country's economy struggles to recover from 2 recessions in the past 5 years.
Economists are concerned that falling prices and salaries will make it increasingly difficult for the country to repay its debts.
The data shows how inflation for the month of August fell into negative figures, with prices falling by 0.5% after seasonal adjustments had been taken into account.
This compares to forecasts of a 0.2% fall in prices, and follows a 0.3% drop in July.
Recommended Reading :
* Spain sees public debt hit EU 1 Trillion