Spain unemployment benefit claims up in August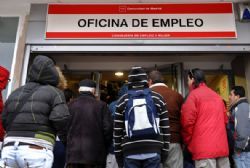 Spain's registered number of unemployed increased in August for the first time in 6 months, according to a report issued by the Ministry of Labour earlier today.
During a period where unemployment traditionally increases due to hiring being postponed over the summer period, the number of people registering to claim benefits increased by some 8,070, bringing the total number of those without work to 4.43 Million at the end of August.
The Government report added that the past decade had seen the number of registered job seekers increase by an average of 49,025 people each August.
Over the past 12 months, claims for unemployment have fallen by 5.8%, the ministry said.
The country's rate of unemployment peaked in Q1 of 2013 at just below 27%, and has since fallen to 24.5%. The 4th-largest euro-zone economy has now posted 4 consecutive quarters of economic growth, coming after a 6-year slump.
The number of people registered as employed with the social security system, a rough measure of total employment, fell by 0.6% to 16.65 million compared with the same month last year, the government added.
Recommended Reading :
* Spain's fall in unemployment "not seasonal" : Minister
* Spain's registered jobless inches lower in August [2013]