Spain Speculates Over Royal Divorce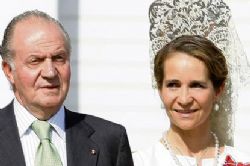 Tuesday's edition of Italian Newspaper "La Repubblica" has speculated that Spain's former King Juan Carlos and Queen Sofia are planning for divorce.
The Daily cites facts such as the Royal couple chosing not to Holiday together this year, with the traditional Summer photoshoot at Marivent Palace, the Royal residence in Mallorca being sidelined. This year Queen Sofia accompanied her family, whilst King Juan Carlos opted to stay at home.
Furthermore, the last time they appeared in public together was at the coronation of King Felipe VI back in June.
Juan Carlos himself has only been seen in public twice this summer: at the inauguration of Juan Manuel Santos as president of Colombia and in Granada a week ago where he supported the Spanish basketball team.
The Royal Couple's preference for leading separate lives has been a subject of speculation for many Spanish journalists over recent years, particularly regarding the 'close friendship' between Juan Carlos and Corinna zu Sayn-Wittgenstein.
The abdication of the former King earlier this year – officially for reasons of failing personal health – has also been cited as a means of saving the Royal family from the taint of the divorce of a reigning monarch.
La Repubblica goes on to claim that an official statement has been released by the Royal Household, which notes that the Royal separation "is imminent".
The popularity of the Royal family in Spain has fallen considerably in recent years over scandals such as the King's lavish trips abroad to kill Elephants as the country struggles in the grip of recession, and the fraud trial of his son-in-law, and in which his daughter, Princess has been widely implicated.
Fact : The Duke of Edinburgh and Queen Sofia were both born into the royal family of Greece and Denmark, with the Duke and Queen Sofia's father being first cousins. Queen Sofia is also a German princess on her mother's side, and through her mother is also distantly related to both the Duke of Edinburgh and Queen Elizabeth II.
Recommended Reading :
* Spain's King Juan Carlos Signs Abdication Law
* Popularity of Spain's Royal Family Crashes
* Spain Seeks Total Legal Immunity for Juan Carlos After Abdication