Spain to Support NATO forces in Eastern Europe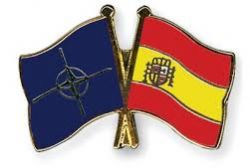 The Spanish Navy has seconded the F-Class Frigate 'Don Juan de Bourbon' to NATO to join a fleet of 5 ships in their patrol of waters between the Black Sea and the eastern Mediterranean.
The 4-Month patrol comes ahead of the plans to assign 4 fighter jets from the Spanish Air Force to Patrol the skies above the Baltic countries during the first 3 Months of 2015.
Further to this Naval and Air support, the Spanish Army has also offered 400 Soldiers to join a NATO Patrol in Eastern Europe.
A summit of the Heads of State and Government of NATO countries is currently taking place in Wales, attended by PM Mariano Rajoy, and which is expected to seek the agreement of the creation of a "rapid response" task force, which can be deployed within 48 hours.
The threat of IS forces in the near East, specifically their threat to neighbouring NATO Countries such as Turkey, is also on the agenda.
According to the Spanish press, Minister of Defence Alejandro Alvargonzález, has ruled out Spain's joining the coalition suggested by the United States, to intervene in Iraq and confront extremists.
The Minister also rejected requests to increase contributions to NATO expenses to 2.0% of GDP.
Recommended Reading :
* Catalonia calls for separate army to Spain
* Spain offers to build battleships for India