Further El Hierro Earthquakes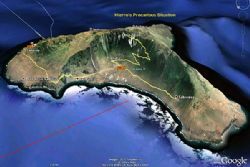 An earthquake with a magnitude of 3.8* hit the Canary Island of El Hierro late on Wednesday night.
The activity, which was recorded at a depth of 16km, had its epicenter around 5km off the Eastern coast of the Island and was followed by a number of smaller activities in the hours that followed.
*
Whilst the Richter scales measures the energy displaced by an earthquake, the Moment Magnitude Scale (MMS) registers the movement registered on the surface.
The Canary Islands – in particular El Hierro – is no stranger to Seismic activity, with an Earthquake 'Swarm' of more than 12'000 activities taking place in 2011 / 2012 alone. This was largely attributed to Volcanic activity taking place off the Coast of La Restinga to the South of the Island.
Events on and around El Hierro – the smallest and most seismically active of the Canary Islands - continues to be of interest to Spain's National Geological Institute, and countless Conspiracy and Armageddon Theorists across the Atlantic. Such theories are due to fears that any significant event may trigger a geological event on the neighbouring Island of La Palmas.
Scientists have long predicted that a Seismic event on the Island 'could' trigger a sequence of events that cause a freak Tsunami which devastates much of the Eastern Coast of the USA.
The Youtube clip helps to scaremonger and whip up those of a nervous disposition into a further frenzy >>>
Recommended Reading :
* El Hierro : The Conspiracy Theories Keep Coming