Catalans want no part of illegal vote on independence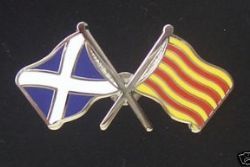 A majority of Catalans believe a planned independence vote in November should not go ahead if, as expected, the referendum is declared illegal, two polls showed on Sunday, as the Spanish region prepares for a stand-off with Madrid.
Catalan President Artur Mas has promised a referendum allowing Catalans to decide whether they want the northeastern region to break away from Spain. Prime Minister Mariano Rajoy has vowed to block the move in the courts, saying such a vote would be unconstitutional.
The vote would come nearly two months after an independence vote in Scotland. Mas has said a "yes" vote in Scotland would be positive for Catalonia's independence movement. Scotland's referendum follows a 2012 agreement between British Prime Minister David Cameron and Scottish nationalist leader Alex Salmond.
Just 23% of those surveyed in a Metroscopia poll published in El Pais said Catalonia should press ahead with the referendum, even if it is declared illegal. This is the stance of Mas's coalition partner, the separatist party ERC.
The poll showed 45% of those surveyed believed Catalonia should respect the decision of the court and 25% said the region should look for other legal ways to redraw its relationship with Spain.
A NC Report poll, published in La Razon newspaper, showed 55% of Catalans would not support the referendum if declared illegal. Both polls surveyed 1,000 people.
The wealthy region of 7 million people has its own language and cultural identity and has long sought greater self-rule. Central government spending cuts during a deep recession have helped fuel independence sentiment.
The Metroscopia poll found just 27% percent of those polled wanted full independence from Spain, with 42% wanting Catalonia to form a part of Spain but under new terms. Many Catalans want more power over taxes and welfare spending.
A test of separatist feeling will come on Catalan national day on Sept. 11, just a week before the Scottish referendum, which in previous years has brought more than one million people onto the streets, draped in the yellow and red regional flag.
However, a financial scandal involving the politician who became a figurehead for Catalonia's drive to become an independent nation, Jordi Pujol, has damaged the movement.
The Metroscopia poll showed a majority of Catalans believed the revelations that Pujol hid an inherited fortune of millions from the taxman for 34 years had negatively affected the independence movement.
Recommended Reading :
* Spain would veto an Independent Scotland's entry into EU
* Could a Scottish yes vote derail Spain's fragile recovery ?