Spain 'could export 50% of all Europe's Gas requirements'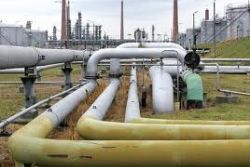 For much of the nineties and noughties Spain lead way with exploring new possibilities and opportunities for renewable energies. This came in the shape of several private and publically finances initiatives which saw green energy rise to contribute as much as 42.4% of all Spain's energy usage.
With Western Europe facing political instability in the Middle East and North Africa, and uncertainty in Russia and Ukraine, is Spain in a stronger position than many other countries in Europe to ride out any potential energy crisis ?
Spain's Minister for Industry Energy, and Tourism, Jose Manuel Soria, seems to think so – even going so far as to claim the Spain could even be in a position to export energy to other countries.
In an interview published on Foreign Policy website yesterday the Minister explained that over 50% of all the country's liquefied natural gas (LNG) was imported via a secure pipeline from Algeria before being converted into gas in one of Spain's 7 regasification plants – the highest number of any other European Country.
And with so many alternative energy infrastructures in place, but under-utilised due to a recent change to a change in subsidy and tax policy, could it be that all Spain needs to do to take advantage of this situation is to encourage green energy production once again, leaving an excess of Gas free for export ?
If Jose Manual Soria's calculations are to be believed, Spain 'could' export between 35 – 40 Billion Cubic Meters of Gas per year to the rest of Europe – more than 50% of all the gas currently exported by Russia through pipelines across Ukraine.
Earlier in 2014 the Spanish Government reduced subsides and incentives for producers of green energy - partly as a means to promote 'sustainability', and partly to address the issue of an escalating energy deficit that had grown to EU30 Bln, and had resulted in the cost of electricity jumping by 70% in the last decade. Offering subsidies of up to 20% for a period of up to 25 years on alternative energy schemes may be a great concept for promoting energy sustainability, but not long term financial stability. The subsidy was therefor changed to 7.5% (in some cases less than a third of what had previously been granted) for the life of the project, meaning that some energy producers could simply not afford to continue operating at a profit and several wind farms or PV Solar plants were simply mothballed.
For the meantime, it seems that if only Spain could increase green energy consumption it would create a greater reserve of gas for potential future export. Whilst financial incentives are key to producing alternative energy on an industrial scale, surely it makes just as much sense to encourage the production of green energy at the point where energy is consumed ? Surely incentivising houses, farms and other commercial buildings to invest in solar, geo-thermal, aerothermal and hydro schemes and produce much of their own energy requirements would not only reduce their demands on other sources of energy, but reduce demand placed on infrastructure ?
If being a major exporter of Gas to other Western European countries on such a scale really is such a possibility, surely the EU would recognise this as being a scheme of great strategic importance and put their hands in their pocket to contribute to such an incentive ?
Recommended Reading :
* Spain's Solar Tax : Removing Green Incentives ?
* Spain announces details of green energy subsidy cuts