Four Catalans drive 1,500 miles to support Scotland's "Yes"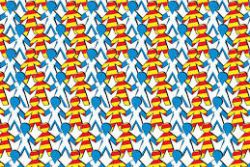 Four firefighters from Catalonia drove more than 1,500 miles from Barcelona to Glasgow to show their support for Scottish independence - in a 45-year-old Seat 600.
The men, who all come from Girona, a city within the autonomous community of Catalonia, parked up inside George Square on Wednesday afternoon in their brightly painted car.
The intrepid firemen set off from Barcelona on Sunday, with three crammed inside the tiny vehicle and the 4th following on a motorbike.
Fireman and driver Oriol Pallares, 36, said the journey had been uncomfortable but very important to them all.
Oriol said: "We wanted to give our support to the people of Scotland for their independence referendum and we are really hoping for there to be a Yes result.
"It's very important to us and our families at home because we are wanting there to be a referendum in Catalonia for us to leave Spain and be on our own.
"We show our support in Scotland because at home the Spanish government doesn't want us to have a referendum of our own.
"The Catalonian government is pushing for there to be a referendum on the 9th of November, so if Scotland gets its own independence then it shows it can be done.
"This is very important sentiment for me as there are many people in Catalonia who want independence as we feel we are separate from Spain."
Their journey to Scotland for the eve of the referendum saw the men drive all through Spain and France to the ferry port at Calais.
After a ferry across to Dover, they continued following signs for "Scotland" until they finally reached Glasgow.
Passenger and fellow fire-fighter Llorenc Parera, 45, said it was his first time in Scotland, but it was worth the cramped journey.
Llorenc said: "It was really nice coming over even though we were very cramped inside the car. There is not much room, it's very small, and 45 years old like me.
It's my first time coming to Scotland and it's very beautiful here.
"The car is a Seat 600 from 1971, it's a Spanish version of a Fiat and we spent 36 hours inside of her getting to Scotland.
"We're also with two other friends who work with us - Hugo Martinez, 35, and Josep Pladevaya, 40.
"On Thursday we will drive to Edinburgh while everyone is voting. It's our first time and we're very excited for the result to come out.
"We are all wanting there to be a Yes vote because we believe we can do something similar in Catalonia."
The Catalan Parliament have agreed to holding a referendum for the right to self-determination on November 9, 300 years after Catalonia lost its sovereignty to Spain in the War of the Spanish Succession.
The people of Catalonia will vote on two questions - 'Do you want Catalonia to become a state ?' and, if so, 'Do you want this state to be independent ?'
Recommended Reading :
* Spain would veto an independent Scotland entry into EU
* Breakaway states like Catalonia and Scotland not guaranteed EU membership