Catalonia to call for independence vote 'in the next days'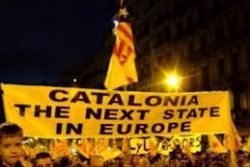 The president of Spain's Catalonia region said he would formally call "in the next days" for a vote on independence from Spain which has been scheduled for Nov. 9.
The Catalan Parliament passed a law on Friday enabling regional head Artur Mas to call such a vote, though the Spanish government has said it would violate the Spanish constitution and has pledged to block it in the courts.
"The law ... will be used this week, in the next days, to call for the Nov. 9 vote," Mas said at an event in the Catalan city of Cardona. His remarks were broadcast by Spain's state-owned television.
With its own language and culture, and a long-standing pro-independence movement that has gathered momentum during recent years of economic hardship, Catalonia has sought a referendum on independence similar to the one held in Scotland on Thursday.
Recommended Reading :
* Catalonia call independence vote despite Scottish "No"
* Catalans want no part of illegal vote on independence