Iberia Airlines Confirm Order of New Fleet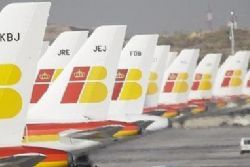 International Airline Group (IAG) announced on Monday that it has decided to convert eight A330-200 options, previously announced, into firm orders for Spain's Iberia Airlines, which will become a new operator of the A330-200.
The new stock will be delivered from the end of 2015 and will each be equipped with GE CF6 engines.
Iberia currently operates an Airbus exclusive fleet, including 13 x A319, 12 x A320, 18 x A321, 8 A330-300, 8 x A340-300 and 17 x A340-600.
The new A330s were announced last month alongside an order for 8 x Airbus A350-900 aircraft. In total they will replace 16 x A340 family aircraft in Iberia's long-haul fleet.
The airline, which currently flies to more than a 100 destinations in 38 countries, announced the orders for new stock on 1st August after revealing that profits for Q2 of 2014 were up 55%.
This came at the cost of around 3'600 job losses between 2012 - 2015.
Recommended Reading :
* Iberia Spain profits up : New Aircraft ordered, Staff cuts continue