Rajoy backs down on Spain's Abortion reform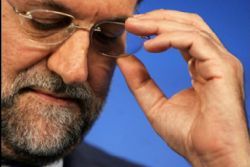 Mariano Rajoy on Tuesday confirmed plans to abandon changes to create one the strictest laws on abortion in Europe.
The proposed changes would only permit abortion in cases of rape or if the pregnancy posed a serious health risk to the mother, and has caused a rift in the ruling Partido Popular, in addition to being deeply unpopular with the majority of the public.
The PM had delayed bringing the issue to parliament despite being a manifesto promise in the 2011 elections.
Rajoy himself told a press conference that he had "taken the sensible option", with a spokeswoman for the PM later confirming that the measure had been abandoned.
As an alternative Rajoy announced he would seek instead to change Spain's abortion law so that young women of 16 and 17 could not terminate a pregnancy without parental consent.
Abortion was a subject that was difficult to find a common agreement on, and the Government had done all it could to reach a consensus, the PM added.
Even though the right-wing Partido Popular has an absolute majority in parliament, and able to pass laws without the support of other parties, it was still met with opposition within it's own ranks.
"We will continue to look for ways to reach the widest consensus," said Rajoy. "We cannot have a law that will change within the first 30 seconds of a new government entering power."
The previous PSOE administration approved a reform to the abortion law in 2010, which allowed the termination of unwanted pregnancies on demand within 14 weeks - 22 weeks in cases of severe abnormalities - which brought Spain in line with most of Western Europe.
Abortion was first made legal in Spain in 1985 in the cases of a malformed fetuses, rape or potential mental or physical damage to the mother.
The majority of other countries in Western Europe permit abortion on request, according to the World Health Organisation (WHO), with 88% allowing the termination of pregnancies if the fetus is thought to be impaired or in cases of rape or incest.
Recommended Reading :
* PP U-turn over Spain abortion reform
* Vatican's opinion on abortion differs to Spanish Catholics : Poll