Spain to Borrow EU242 Bln in 2015 as Debt Reaches 100% of GDP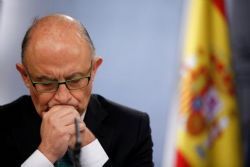 Spain will sell EU242 Bln bonds and bills next year to cover refinancing needs and its budget deficit, as the government seeks to bolster support in the run-up to the general election.
The country's public debt will rise to 100% of GDP from 98% at the end of this year, according to the spending bill presented today by Budget Minister Cristobal Montoro in Madrid. The government's net borrowing will be EU47 Bln.
The government's spending plan, which sets aside EU10.4 Bln to subsidize unemployment benefits and EU35.5 Bln for interest payments, aims to cut the deficit while reducing taxes. PM Mariano Rajoy is seeking to ease the toughest austerity measures in Spain's democratic history with his 4-year term ending in 2015 and unemployment still close to 25%.
"Spain should continue de-leveraging its economy," Montoro said during a news conference in parliament. "Spain should use the dividends of growth to repay debt."
Montoro presented the plan as Spain's 10-year bond yields fell 2 basis points to 2.205%. The government's spending plans for next year assume an average yield of 2.6%. Six straight years of budget slippage have pushed the nation's debt load up from 36% of GDP in 2007, before the end of a real-estate boom triggered a downturn. Still, investors are returning to Spain's stocks and bonds as the euro region's 4th-largest economy recovers, 2 years after coming close to losing access to financial markets.
Rajoy's Slump
Its borrowing costs dropped to record lows this year, enabling the Treasury to cut its 2014 issuance target and sell 50-year and inflation-linked bonds. The gap between Spanish and German 10-year yields was at 123 basis points at 12:12 p.m. in Madrid, compared with 650 basis points in July 2012.
Rajoy, facing a slump in his popularity, approaches elections next year as a newly-formed left-wing protest movement is gaining support, making it the 3rd-strongest political force, according to a newspaper poll published in August.
The budget shows pension payments rising at least 0.25%, while an increasing number of retirees will push the government's bill up 3.3% to EU131.7 Bln, as Rajoy has pledged to boost their spending power even as consumer prices fall. The government will transfer EU13 Bln to the social security system to meet payments, little changed from 2014.
The government's 2015 budget plan seeks to stimulate growth with an average 13% income tax cut while the main corporate tax rate will drop to 28% next year. It predicts 1.3% growth this year and 2% in 2015, with unemployment falling to 22.9% next year.
Infrastructure spending will rise 13% compared with the 2014 budget to EU6.1 Bln. Spain is targeting a budget deficit of 4.2% of GDP for 2015, compared with a goal of 5.5% for 2014.
Recommended Reading :
* Bank of Spain current account balance plummets in June y-on-y