Fitch's praises Spain's Banks, forecasts property prices stabilize : Report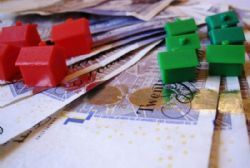 The outlook for Spain's mid-sized Banking institutions has improved over recent months, according to Fitch's Ratings.
In the report titled "Spanish Mid-Sized Banks: Peer Review", published earlier to today the agency described the "improvement in capitalisation, good progress in restructuring, and signs of asset quality stabilization".
The improvements were aided by a better general economic outlook for the Country as a whole, resultingin positive rating actions for some mid-sized banks between June and August 2014.
However, there are still challenges to reduce large stocks of problem assets, and improve income.
Unicaja; Ibercaja; Kutxabank; NCG Banco; BMN and Liberbank - were all reported to have increased capital levels.
The State-funded - NCG Banco; BMN and Liberbank - also met repayment targets set during 2013.
On average, the 6 banks have reduced their loan portfolio by around 30% in the last 3 years, although this ratio is distorted by the transfer of real estate development loans to SAREB, Spain's bad bank, and bank acquisitions. Loan volumes have shrunk at a slower pace since mid-2013.
Fitch's also expects further contraction for the remainder of 2014 in light of the asset de-risking plans and the still weak economy, despite the fact that moderate GDP growth has resumed, however the banks remain vulnerable to unreserved problem assets. This makes them sensitive to further stress in the collateral value of problem assets.
Potential revaluations by the ECB may lead to capital deficits at banks with problem assets, However, most Banks have already taken remedial action to avoid such an occurrence, and which the agency believes to be sufficient action.
Spanish banks have already undergone a large-scale independent stress test in 2012, leaving them relatively better placed for the stress test component of the comprehensive assessment.
Reducing the large stock of problem assets is now the greatest challenge for the country's mid-sized Banks.
New non-performing loans (NPL) seem to have turned the corner since Q4 of 2013, and Fitch's believe NPL ratios will peak during the final half of 2014.
The report also spoke of "clear signs of a stabilisation of Spanish house prices", suggesting an end to 7 years of the dreaded 'Death Spiral'.
However, Fitch's does not expect a "speedy rebound", considering that the "structural labour and property market imbalances will require material effort and time to correct. Improving banking earnings will also prove tough given the low interest rates, modest business volumes and further loan impairment charges, albeit lower than in 2013. Further scope to reduce funding costs and efficiency gains from restructuring processes should help.".
Recommended Reading :
* Spain House Prices up 0.8% year on year