Paramount Murcia : 4 Octobers of Nothing Much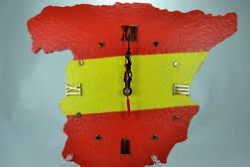 One year ago this week, Pedro Alberto Cruz confirmed that phase 1 of the construction of the Paramount Murcia theme park was well and truly underway.
The region's Minster for Culture, Tourism and Bullshit went on to assert that the Park would be open to the public "in the second half of 2015".
And of course, the general public would be foolish to doubt the word of such an accomplished politician with a reputation for never once over-promising and under-delivering on a project.
Coincidentally, this week also marks the 2nd anniversary of the announcement that both Corvera Airport and Paramount Murcia would each have their own exhibition stand at the 'World Tourism' event of November 2012. Money well spent when you consider that each project will be lucky to be fully operational for 12 months at the earliest.
And if you will indulge us to labour the old 'on this day in history' theme just one last time, it was this week in 2011 when Premursa first announced the details of the attractions to be included in the Paramount Murcia theme park project. Note if you will how Tumbit prophetically expressed some cynicism with the suggestion that the park would be open to the public within the 3 years claimed.
Recommended Reading :
October 2013 : Paramount Murcia - Phase 1 underway
October 2012 : Paramount and Corvera to be Promoted at World Tourism Exhibition
October 2011 : Paramount - The Official Presentation
October 2010 : Location of Proposed Paramount Murcia Theme Park Announced