Food aid : For Spaniards only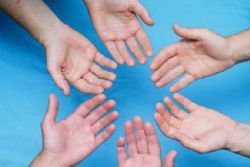 Inside a small apartment in the Madrid town of Alcalá de Henares, members of far-right group España 2000 are handing out food and basic products to needy Spaniards.
They say they are picking up where the country's social services leave off, claiming that the latter predominantly assist immigrants to the detriment of poor Spanish nationals.
Powdered milk, oil, chick peas, sausages, toothpaste ... volunteers hand out enough items to last a family a month and a half, according to their own calculations.
The only requirements: truly needing it, and being Spanish.
This apartment, where people can also get legal and administrative advice, is part of a growing network of welfare assistance provided by Spanish far-right activists.
The movement has found a breeding ground in the economic crisis, and apartments like this one in Alcalá can now be found in a dozen cities.
The handouts mirror successful strategies conducted in France, Belgium and Greece, and provide a social cover for political aspirations. The Spanish far right is eyeing municipal elections next year in the hope of scratching votes away from the center-right parties, much as new political force Podemos took votes away from the center-left at the European elections in May.
While far-right activists in Spain are few and tend to bicker among themselves, they are convinced that the spectacular results obtained by right-wing parties at the European elections will eventually spread to the Iberian peninsula as well.
Groups such as Plataforma por Catalunya (PxC) and Partido por la Libertad (Freedom Party) reject this far-right description, and resort to populist rhetoric that touches a chord with disgruntled voters angry at a system they feel has failed them.
They draw their inspiration from France's Front National, Germany's NPD and Greece's Golden Dawn, although far-right groups enjoy far less popular support in Spain than in other European countries thanks to the country's Francoist past, which has so far served as an effective vaccine against new totalitarian tendencies.
Because constant in-fighting prevents a national alliance, the far right is strongest at the municipal level, where various parties obtained around 100 council seats in 2011 elections.
Españoles en Acción, the social branch of España 2000, feeds 130 families in Alcalá de Henares every month. Their volunteers obtain the food outside supermarkets, where they ask for donations "for Spanish families."
"The crisis has been a chance for us to prove our patriotism," admits Rafael Ripoll, vice-president of España 2000 and a councilor in Alcalá de Henares. "We are helping people who were vacationing in [the Mediterranean resort of] Gandía only two years ago and still can't figure out what's happened to them. The problem is that immigrants get preferential access to aid in Spain, while Spaniards have nowhere to turn and are forced to emigrate."
Alcalá de Henares is the only municipality in the Madrid region where España 2000 secured a council seat. The party's four other councilors are all in Valencia.
Inside the Alcalá apartment, there is a constant coming and going of people.
"I come here because it is the only place that has opened its doors to me," says Raúl Flores. Until last year he was working at a pulp and paper company. Now he is getting €426 a month in unemployment checks, which have to stretch to cover living expenses for himself, his wife and his daughter. First he went to the Food Bank, then he turned to the Catholic Church and the Red Cross, and now he is here.
Meanwhile, a toothless woman picks up her food basket and asks a volunteer a question about her mortgage payments. "Call me, we'll meet and go over it together, don't worry about it," says the worker.
The next visitor is a woman out of a job whose home has been repossessed and whose husband is in jail. Then come two older women wearing pearls and hair spray. The refrigerator door in the apartment shows a sticker that says: "Not enough work, too much immigration."
Antonio Sánchez, another volunteer, offers his own reasons for being here. For 22 years, he worked as a building site foreman, but now he is no longer wanted. "They just want people from abroad who will agree to be up on the scaffolding even when it's raining and won't demand to get paid for extra hours. They've let too many foreigners in. They've managed to make me feel useless."
"I live next to the Red Cross, and the Romanians show up in luxury cars and covered in gold chains to collect their food. They walk out with bags full of school books," he adds.
This feeling of "why the immigrants and not me?" is pervasive, especially since the crisis began. Even so, Spain has remained an exception in Europe, a country almost miraculously untouched by right-wing populism and where immigration does not dominate the political discourse like it does in other EU states.
Controversial statements such as the one made some months ago by Vitoria mayor Javier Maroto, of the Popular Party (PP), who accused immigrants from the Maghreb (mostly Moroccans and Algerians) of living off welfare, barely raise eyebrows north of the Pyrenees.
But in Spain, where collective historical memory has served as an effective firewall against far-right tendencies, these initiatives constitute a strange new trend.
Recommended Reading :
* Spain 2nd worst in EU for child poverty