Madrid police assault anti-monarchy protesters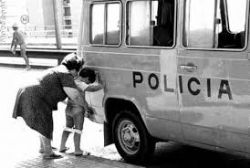 A small anti-monarchy demonstration involving around 200 people in Madrid might otherwise have gone unnoticed.
But scuffles between protesters and police might raise some questions about the somewhat heavy-handed tactics of the forces of law and order.
squad officers were filmed using batons to beat protesters who were armed with no more than banners.
Tensions rose when demonstrators tried to march through a street blocked by riot police.
A number of people were reported to have been injured, with a handful arrested.
has several anti-monarchy movements. Demonstrations were held in many cities calling for the institution to be abolished following the abdication of King Juan Carlos. Felipe VI was sworn in as his successor in June.
An opinion poll for El Pais newspaper carried out in the same month found 62% of Spaniards support a referendum on the country's form of government.
Recommended Reading :
* Spain spends EU1 Bln on riot gear
* Spain' protest law and the suffocating embrace of the law