UK investigates Spanish invasion of Gibraltar airspace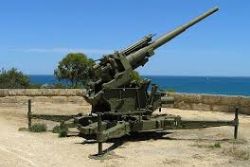 Britain is investigating whether two Spanish military jets illegally entered its airspace over Gibraltar last month, Britain's Foreign Office said on Sunday.
The incident is the latest in a long line of diplomatic spats between Britain and Spain over Gibraltar, which was ceded to Britain about 300 years ago but which Spanish authorities now want to reclaim.
A Foreign Office spokeswoman said the department was investigating an incident involving two Spanish jets flying close to a commercial airliner that was coming in to land on Sept. 19. It said that Gibraltar's air traffic control ensured that the jets kept a safe distance from the airliner.
"We are continuing to examine the incident to ascertain whether it was within the lawful right of passage, but this incursion did not represent an obvious exercise of jurisdiction," a Foreign Office statement said.
Britain has previously accused Spanish naval vessels of entering Gibraltar's territorial waters, leading to the government summoning the Spanish ambassador to London.
The Spanish ambassador has been summoned five times on Gibraltar issues since the current Spanish government took office in 2011.
Recommended Reading :
* UK summons Spain over provocative naval activity
* Cameron should grow 'cojones' over Gibraltar feud with Spain