Spain to create Crisis Cabinet to combat Ebola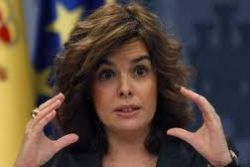 Spanish Deputy PM Soraya Saenz de Santamaria will head a crisis cabinet to deal with the ongoing Ebola crisis in the country after it was confirmed that a nursing auxiliary had been infected with the virus on Monday.
The crisis cabinet consists of the Spanish Ministers of Defense, Interior, Presidency, Economy and Justice and a representative of the Madrid Regional Health Authority.
Saenz de Santamaria gave the news in the press conference following Friday's cabinet meeting, a conference in which Health Minister Ana Mato who has been strongly criticized for the handling of the crisis to date, did not make an appearance.
The Deputy PM said the cabinet would meet at least once a day and would also include a representative of the Carlos III Hospital where Teresa Romero, the nurse, is receiving treatment and a further 13 people are under observation after being possibly exposed to the virus.
"We will have a Secretary, who will give support to all of us and to myself as Deputy PM. It is a flexible cabinet and we will be able to call on more people and more experts," she explained, adding that the cabinet would establish transparency protocols to maintain citizens informed.
Meanwhile PM Mariano Rajoy made a brief visit to the Carlos III Hospital along with Ignacio Gonzalez, the President of the Madrid Regional Government. He was at the hospital for around an hour and ended his visit with a brief statement to the press, who were not allowed to ask any questions.
Rajoy explained that Ebola was a relatively unknown illness in Europe and insisted there was only a low risk of contagion, while thanking health workers for their dedication and hard work in dealing with the crisis.
Meanwhile it has been confirmed that Teresa Romero is in a stable, but critical condition after seeing her condition deteriorate on Thursday and is being treated with the experimental ZMapp serum, which was flown in from Belgium.
Recommended Reading :
* Spain nurse tests positive for Ebola