UK has-been slams cornerstone of Spanish culture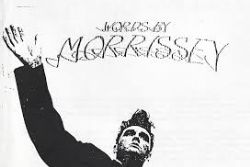 English music icon Morrissey gives a concert Friday in Barcelona, the second stop of a Spanish tour in which his theme "the bullfighter dies" was one of the highlights in Madrid.
"The shame of Spain," shouted the controversial artist, an advocate of vegetarianism and animal rights, after performing the song against the background of images of a matador being gored, at the start of his tour in Madrid on Thursday.
The 5,000 people filling the Palacio de Deportes for the "Mad in Madrid" concert did not take badly the criticism against Spain's most traditional spectacle.
But it was the classic theme of Morrissey's former band The Smiths, "Meat is Murder" which dumbfounded the public, shocked by the scenes of crammed slaughterhouses and crude sacrifices of animals shown on a screen.
The 55-year-old pop star, escorted by five young musicians, performed one more song than in his Portugal tour, and included rare hits such as "Everyday is like Sunday," which was wildly applauded by his fans.
The big surprise came at the end with "How soon is now?," in a repetition of the grand finale of his last concert in Madrid in 2008.
Morrissey opened the concert with "The Queen is dead" of the Smiths and sung several themes of his latest album "World peace is none of your business."
The show was preceded by scenes of gored bullfighters and began with British punctuality and weather, with heavy rain pouring outside the concert hall.
On Friday it will be the turn of Barcelona, where the regional government has banned bullfighting, fueling the debate in Spain between supporters and detractors of the "Fiesta."
Recommended Reading :
* Spain's San Isidro : Bulls 3, Matadors 0