Western Africa better placed to combat Ebola than Spain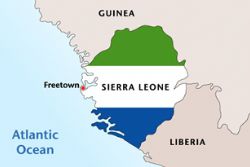 A report in this morning's online edition of the Telegraph has quoted a top Spanish medic as saying how the Doctors in Sierra Leone are better trained, equipped and prepared to deal with Ebola, than those in Spain.
Jota Echevarria, a senior health coordinator for the International Rescue Committee (IRC), spoke of his concern at the measures being used in Madrid to combat the outbreak, claiming Spain had failed to carry out correct containment measures.
Speaking about practices in West Africa, Echevarria described how "I can tell you that all medical staff charged with treating patients suspected of Ebola have rigorous training, most of all in how to put on and take off the protective suits".
Echevarria, a doctor with more than 25 years experience in humanitarian crises around the world, and now working in the Sierra Leone capital to set up a series of isolation and treatment units continued that "It takes 10 to 14 days to become fully trained in wearing a special protective suit. It is hard to put on and even harder to remove and that is where the biggest danger of infection lies."
The report follows last week's news that an auxiliary nurse on a specialist team charged with treating two missionary priests who had been repatriated from West Africa, became the first person to contract Ebola in Europe.
Recommended Reading :
* Spain Ebola Victim's Dog Murdered