Core investors bid high for Spain's AENA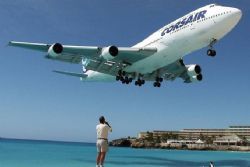 Bids by core investors in Spanish airports operator AENA valued the company at up to EU8 Bln, more than originally anticipated, according to information from state holding company Enaire.
Enaire, which is selling 49% of AENA, said late on Tuesday that an initial 21% stake would be sold to three shareholders, Corporacion Financiera Alba, Ferrovial and Britsh fund TCI, who offered to pay between EU48.66 and EU53.33 per share, giving a valuation of EU7.3 to EU8 Bln.
The sale is being watched as a key test of faith in Spain's economic recovery after a 5-year crisis and ahead of a general election next year.
The final price paid by core investors depends on the second phase of the privatisation, in which a 28% stake is slated for institutions and retail shareholders for a listing in late November.
In early meetings between potential investors and lead banks for the second tranche, one source told Reuters he had been pitched shares valuing the company at around EU6 Bln, which he considered "expensive."
An indicative price range for the sale will be included in the share prospectus expected next week.
A valuation of around EU5 Bln had been indicated up to now by sources close to the company, despite doubts on the strength of the European economy and a sell-off in global markets after a glut of initial public offerings.
AENA, the world's largest airports operator, has undergone a huge overhaul to ready itself for privatisation and announced a profit of EU597 Mln for the first time in 2013.
Including debt of around EU11 Bln, AENA's enterprise value is around EU19 Bln, according to broker Banc Sabadell, which it said would give it a similar value as European rivals such as Fraport and Aeroports de Paris .
Companies across Europe have pulled listing plans in recent weeks as equity markets falter, with British bank Aldermore becoming the latest to cancel an initial public offering (IPO) earlier on Wednesday.
Recommended Reading :
* Spain's AENA tempts investors with fat dividends