Castellon Airport to Exhibit at London Expo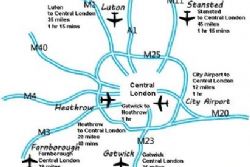 The owners of Castellon Airport and their appointed operators and managers have jointly taken the decision to test the appetite for the new facility with the British traveler at the London Tourism Expo.
Max Buch, the Regional Minister of Economy, Industry, Tourism and Employment, announced that the Generalitat Valenciana and SNC-Lavalin would investigate the demand for direct flights from London to Castellon Airport.
With the second round of completed works and modifications expected to be complete Mid-December, the Expo has been selected as an important and strategic event which can directly influence who, and how many fly to the province as part of their 2015 promotional campaign.
Buch said the aim of the campaign was to show the British tourist how Castellon represented an alternative to Alicante and Valencia as a 'low cost' destination.
However, when pressed for an update on exactly when the facility would see it's first arrival the Minister confirmed that he had no news, but confirmed that "issue of the final permits is very close".
Buch maintained that the aim of the regional governments was for the Airport to have completed its final round of test and commissioning by Easter, in time to be fully operational by Summer 2015.
Recommended Reading :
* Castellon Airport 'Open end-2014'