Ebola suspect taken from Air France flight in Madrid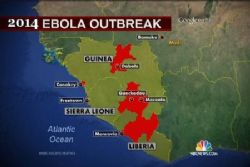 Madrid authorities evacuated an Air France plane on Thursday after a passenger started shaking on the flight to Madrid from Lagos via Paris, prompting fears the person had Ebola, Air France and airports operator AENA said.
The passenger was taken to Madrid's Carlos III Hospital in an ambulance flanked by a police motorcade, television images showed. The driver was wearing full protective suit and goggles.
Passengers at the airport told Reuters the plane was parked on the tarmac surrounded by emergency services and people in white protective gear. Air France said the plane would be disinfected and the return flight was canceled.
"There were police cars, there was an ambulance .. there was also the fire brigade and people in white suits," said passenger Bronween Bashford, who had been waiting to board the plane in Madrid. "There was a lot of activity out on the tarmac."
The Spanish government has stepped up its response to suspected cases of the deadly disease after a nurse in Madrid became the first person outside Africa to become infected in the current outbreak.
The nurse, Teresa Romero, was diagnosed with the virus last week after caring for two infected priests who were repatriated from West Africa and later died. She is still seriously ill but stable, also in Carlos III Hospital.
Her case prompted questions about whether Spain's hospitals were prepared for a crisis on this scale and calls for the resignation of Health Minister Ana Mato.
Health workers have said the training and protective suits provided to hospital staff had been inadequate. Authorities on Monday pledged to ramp up training.
On Thursday, Spanish authorities said a person who was among those being monitored for signs of the disease because they had contact with Romero would be sent to Carlos III Hospital after developing a fever, one of the symptoms of Ebola.
The person was one of 68 considered to have a low risk of catching Ebola. They have to check their temperature regularly from home.
Another 15 people, including Romero's husband, are still under observation in the hospital but have shown no symptoms.
Nearly 4,500 people have died in the outbreak, nearly all of them in West Africa, out of a total of 8,997 confirmed, probable, and suspected cases reported in seven countries.
United States, which is deploying up to 4,000 troops to West Africa to help contain the spread of the disease, has asked Madrid for permission to use the U.S. air bases in Spain in its operation, a U.S. Defense Ministry source said on Thursday.
"None of the planes will transport patients or people suspected to have contracted Ebola, or who have been in contact with infected people," he said. "Spain will have a right to inspect the planes and passengers."
A decision is due to be announced on Friday when Spanish Defense Minister Pedro Morenes meets U.S. Defense Secretary Chuck Hagel in Washington.
Recommended Reading :
* Spain claims Ebola "Under Control"