Spanish court orders ex-bankers to deposit millions of euros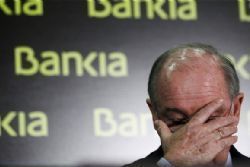 Spain's High Court on Thursday gave two former senior executives at bailed-out lender Bankia and its predecessor Caja Madrid three days to hand over several million euros as it investigates the alleged misuse of company credit cards.
Rodrigo Rato, chairman of Bankia up until its state rescue in 2012 and a former IMF chief, was asked to deposit EU3 Mln with the court to avoid having his assets blocked, a spokeswoman for the court said.
Rato's predecessor Miguel Blesa, who used to run Caja Madrid, a savings bank that was merged with others to form Bankia in late 2010, was told to pay EU16 Mln, she said.
The two ex-bank chiefs have been accused of improper management by magistrates investigating allegations that dozens of former executives used company credit cards for personal expenses such as clothing, food and trips.
The scandal has touched a nerve among Spaniards emerging from a deep economic downturn, even after a slew of corruption cases in recent years involving politicians and the king of Spain's sister.
Crippled by its soured property investments, Bankia needed nearly half of a EU41.3 Bln rescue from Europe in 2012 to shore up weak banks, at a time of deep public spending cuts as the government tried to rein in a gaping deficit.
Thousands of ordinary Spaniards who had bought shares when Bankia was listed on the stock market lost money, as did investors in some of the bank's debt instruments.
Dozens of protesters heckled Rato and Blesa as they arrived at the High Court on Thursday to testify as part of the credit card probe. Some threw the banners they were carrying at Rato's car.
Up to 86 former Caja Madrid and Bankia board members and directors spent EU15.5 Mln on the cards between 2003 and 2012, according to court documents showing a ledger of the transactions and seen by Reuters.
Magistrates are looking into whether the cards were undeclared, meaning spending on them was not registered within the banks as it should have been, and whether the purchases on them were inappropriate.
Lawyers for Rato and Blesa could not be reached for comment.
A court source present at the hearings on Thursday said that Rato told the magistrate he had thought a card he was given for personal use was authorized and subject to tax, and that he was told when he joined what was then Caja Madrid that it was part of his pay.
Rato, who arrived at the entity in early 2010, spent EU99,000 on his card until he left in May 2012 and has now returned more than half of that, the documents filed with the court show.
They list transactions such as cash withdrawals, restaurant bills, and purchases at garden centres and shoe shops.
He declared on Thursday that he did not know until July of this year that there was anything wrong with the card, the court source added.
Blesa, who chaired Caja Madrid from 1996 to early 2010, said that the credit card system had been in place since 1988, and was seen as a way of compensating board members for some of the costs they incurred, the court source said.
He spent EU436,700 on his card between 2003 and 2010, the documents filed with the court show.
The credit card investigation, which emerged when the spending was unearthed by current managers at Bankia, has reverberated across the country and dominated newspaper front pages in recent weeks. Bankia is still around 61% owned by the government.
"They crossed the line. They never thought about the people of this country who deposit money one euro at a time in the bank, and they go and spend it like this," said 60-year-old Rogelia Uribe, who works in a hardware store in Madrid.
Recommended Reading :
* Spain probes ex-Bank Directors suspected of misusing company credit cards
* Spanish court makes first conviction of bankers since start of crisis
* Bankia nominated "Worst company and worst advert 2014"