US Pop star delays visit to 'Ebola-Stricken Spain'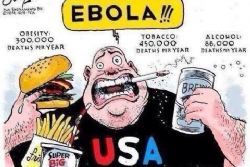 Ariana Grande - the pint sized American pop star widely known as being a difficult celebrity to work with, has cancelled her Spanish tour dates for November due to fears of catching Ebola.
Sources close to the 21-year old Diva report that Ariana was not prepared to take any chances with travelling during the incubation period and plans to perform in Spain in the new year.
However, it seems that the peeving popster is either neurotic, or badly informed at best : As of today, 21st October, the USA has 3 patients currently receiving treatment for Ebola; 1 death from Ebola, and 4 people who have received treatment and since been discharged.
Spain, meanwhile has only seen 1 confirmed death from Ebola, with all recent cases admitted to hospital with suspected signs of the virus being reported to have tested negative.
Recommended Reading :
* Spain Ebola Suspects Test Negative