Catalan Finance Chief Open to 'Scottish Solution' in Spain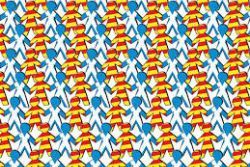 Catalonia is open to offers from the central government that would allow it to remain in Spain with greater autonomy and control over its taxes, regional finance chief Andreu Mas-Colell said.
Mas-Colell, who describes the struggle for autonomy as a "game of endurance," said the two main political parties in Madrid will have to come up with an offer that can be put to a vote. Tax powers would be an important element in any deal, and if PM Mariano Rajoy's government thinks no offer would be good enough to convince Catalans to stay, "they are wrong," he said.
"The more attractive is the offer on the table the more likely that the vote will end up developing as in Britain," the 70-year-old former Harvard University economics professor said in an interview in London today.
Voters in Scotland opted against independence last month after the three main U.K. parties made a joint pledge days before the referendum to hand over more policy-making powers to the Scottish Parliament in Edinburgh. Debate is ongoing at the Westminster Parliament in London on extending those powers.
Catalan President Artur Mas has called off a non-binding vote on independence scheduled for Nov. 9 after the Constitutional Court blocked it, and organized an informal consultation for the same day instead. Abiding by rulings from Madrid has put him under pressure from Esquerra Republicana, his strongest ally, and from protesters who are calling for early elections as a de facto independence referendum.
Staying Legal
"It is to our advantage to remain in a legal framework," said Mas-Colell, a member of Mas's party whose textbook "Microeconomic Theory," which includes sections on game theory, is widely used at universities. Any "exercise of sovereignty on our own is a last resort," he said.
"We are not in any way inclined to do anything that would hurt the international standing of Spain," as that would harm Catalonia, and the reverse is also true, he said.
Amid the impasse, Mas plans to meet with Esquerra Republicana leader Oriol Junqueras later today, according to Efe newswire.
Catalonia, an area of 7.4 million people in the northeast corner of the Iberian peninsula, has a EU193 Bln economy, the largest among Spain's regions. Output per head in Catalonia is 17% above the EU average, whereas Spain as a whole is 5% below the average across the 28-nation region.
Targets Missed
Still, the region is struggling to rein in its budget deficit and will miss the target of 1% of GDP this year, Mas-Colell said.
Next year's goal of 0.7% is also unrealistic. Catalonia is among regions that are being funded by the central government as a cheaper alternative to debt markets, and that brings additional checks on their finances from Madrid.
The finance chief's next challenge is to get the 2015 budget through the regional parliament without the backing of Esquerra Republicana, which is withholding support because of Mas's submission to Madrid's rulings. Mas-Colell said he expects to get it through with abstentions.
Mas-Colell is similarly upbeat on his chances of winning the longer battle against Madrid.
"It is a matter of endurance. At the end who prevails is the one that gets tired last," he said. "We have been at this for 300 years, we are not going to go away."
Recommended Reading :
* Thousands of Catalans crowd Barcelona to call for early elections