Spanish unemployment falls to 3 year low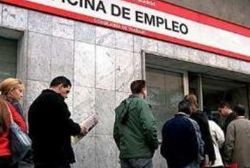 Spain's unemployment rate fell to its lowest level in almost three years in the third quarter as the country's large services sector took on more staff and construction activity also picked up.
The headline jobless rate fell to 23.7%, data from the National Statistics Institute showed on Thursday, down from 24.5% in the previous quarter and below a Reuters forecast of 24.3%.
The figure was the lowest registered since the last quarter of 2011, though Spain's jobless rate remains the second highest in the euro zone behind Greece and the principal drag on the country's economic recovery, which is outpacing most of the currency bloc.
The government has said it expected the economy to have grown by a similar rate in Q3 to the 0.6% quarterly expansion reported April to June.
By sector, employment increased by 108,800 in services and 43,500 in construction, while it fell 73,100 in agriculture, INE said.
The government projects unemployment of 24.2% at the end of this year and by 22.2% by the end of 2015.
A total of 5.428 million Spaniards were unemployed, according to the quarterly poll, down by 195,200 people, while the number of people either working or available for work fell by 44,200 from a quarter earlier to 22.932 million.
In seasonally adjusted terms, employment rose 0.36% from a quarter earlier while unemployment fell by 2.1%, INE said.
Recommended Reading :
* 12.3% of working Spaniards under poverty line
* Spain's September registered jobless up 0.45% on August