How Spain's Social Housing Imploded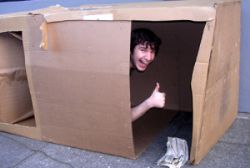 Social housing in Spain is not generous.
Rented social housing makes up just 2% of all residential property compared with 18% in Britain and 17% in France, according to the European Federation of Public, Cooperative and Social Housing.
The country's investment in social housing is just 0.79% of GDP, about half the European average, according to Human Rights Watch.
Rather than offer subsidies to help people rent cheaply, Spain's government has focused on helping people to buy. Social housing tenants have typically rented for around 10 years and then been given the option to buy.
The property crash has torpedoed that policy. Rent-to-buy agreements set the purchase price at the start of the rental lease. When prices rise, that works. But any flats coming up for sale now were priced at the height of the boom. Today's buyers would likely pay above a property's current market value.
Recommended Reading :
* Spain house prices up 0.8% year-on-year