Madrid considers appealing Catalan referendum bid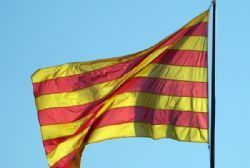 Spanish PM Mariano Rajoy has asked the state's legal bodies to analyze the latest steps taken by the Catalan government to hold a substitute vote on self-rule on November 9.
The goal is to appeal anything that can be appealed in the Catalan nationalists' alternative to the original referendum, which was discarded after Madrid challenged it in the Constitutional Court. The court has suspended all campaigning until it reaches a decision.
Speaking after the Cabinet meeting on Friday, Deputy Prime Minister Soraya Sáenz de Santamaría accused Catalan leader Artur Mas of "transferring to the citizens of Catalonia the obligations and responsibilities that he is not taking on in writing himself. Mas is unloading responsibility for this process on individual citizens."
The Catalan executive is trying to organize an alternative vote with no legal backing and no official administrative campaigning in order to circumvent the Constitutional Court suspension. To do this, it has called on local authorities to cooperate with its plans.
But Madrid is watching events closely. "The government will enforce the law and ensure that citizens' rights are guaranteed," said Sáenz de Santamaría. "Everything seems to indicate that [the Catalan executive] is trying to replace a process we consider illegal with another one that is even more undemocratic."
Sáenz de Santamaría added that the alternative vote scheduled for November 9 "has no democratic guarantees because it is being done without a census and being organized by those who favor a specific outcome, who happen to be the same people who will count the votes and proclaim the results."
Meanwhile, the Catalan government said that a "fully informative" campaign for the substitute referendum would begin on Saturday.
The regional executive said that 34,916 volunteers have already signed up to help organize and hold the November 9 vote.
Recommended Reading :
* Catalan finance chief open to 'Scottish Solution'
* Only Catalan Premier can call early elections