Earthquake off Canary Islands Measuring 4.4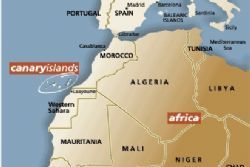 An Earthquake with a magnitude of 4.4 occurred in the Canary Islands shortly before 5am on Saturday morning.
The event took place at 04:53 GMT at a depth of 48kms, with an epicenter in the Atlantic Ocean, approximately 50km due west of the Island of El Hierro.
The Island was stuck by a series of more than 15,000 Earthquakes - most of which had a magnitude below 2.0 - over a 12 month period between across much of 2011 and 2012, which saw both seismic and volcanic activity combine to create an underwater Volcano off the Island's south coast.
The area is no stranger to seismic events, however scientists and doomsday theorists keep a keen eye on such activity around the Canaries in anticipation of a major earthquake around la Palma, which is predicted to cause a major landslide and result in a 'super tsunami' to devastate much of the coast of North America.
Recommended Reading :
* El Hierro : The Conspiracy Theories Keep Coming