Paramount Exec maintains support for Murcia theme park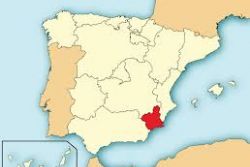 The vice president of Paramount Licensing, Michael Bartok, has expressed his satisfaction with the progress of the Paramount theme park project at Alhama de Murcia, where he also commented how he was looking forward to watching the work progress.
The Executive went on to add that Spain "is an amazing market for theme parks", and that "Murcia and one of the top destinations."
Bartok also maintained that Paramount Murcia will be "a major economic catalyst" that will create jobs, and that he enjoys an "excellent relationship" with Jesus Samper and his team, and told journalists how "We will continue to work closely together until the park is open".
Whilst construction of the Park itself is yet to get underway, Jesus Samper - the President of Proyectos Emblemáticos Murcianos SA (Premursa) - is insistent that Paramount Murcia will be open around January of 2016.
The main park itself is scheduled to be completed first, followed by the so-called 'Lifestyle Center', with its Shops, Hotels and Restaurants.
Recommended Reading :
* Paramount Murcia : 4 Octobers of Nothing Much
* Paramount Murcia jumps another hurdle