Spain's Banks warn AENA listing could be delayed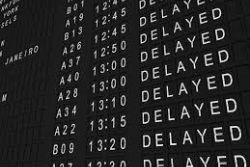 The banks coordinating the stock market listing of Spain's AENA have warned it could be delayed if the government changes the airport operator's auditor, financial newspaper Expansion reported on Monday.
In a letter to AENA, seen by the newspaper, the five banks warned that changing auditor PriceWaterhouseCoopers (PwC) could make it difficult for the firm to list on Nov. 12.
PwC is both auditor and issuer of the "comfort letter" for the listing, which could be seen as a conflict of interest, Expansion said.
The banks and AENA were not available for immediate comment on the report.
On Friday, AENA postponed filing the prospectus for its planned EU7.8 Bln stock market listing until this week, but said it was sticking to its planned debut date.
The sale of a 49% stake in the world's biggest airports operator has been flagged as the largest initial public offering in Europe this year and a litmus test for domestic investor confidence in an economic recovery.
Recommended Reading :
* Spain's AENA prospectus filing postponed
* Spain's AENA tempts investors with fat dividend