Venezuela recalls ambassador to Spain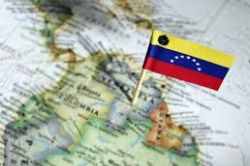 Venezuela said on Tuesday it is calling back its ambassador to Spain for consultations in protest over Spanish PM Mariano Rajoy's call to free a Venezuelan opposition activist jailed for leading protests against President Nicolas Maduro.
Rajoy met the wife of Venezuelan protest leader Leopoldo Lopez last week, tweeting a photo with an exhortation for him to be freed and protests allowed.
In a short statement, the foreign ministry of the socialist-run South American country said it would conduct a broad revision of bilateral ties due to Rajoy's "interference."
"He thinks he's a king, the owner of the Americas," Maduro protested on state television last week. "You respect Venezuela, Mr. Rajoy, as we respect the Spanish people ... You are creating a disaster in Spain."
This is not the first time Venezuela and the former colonial power have sparred.
former King Juan Carlos told the late President Hugo Chavez to "shut up" during an Ibero-American summit in Chile in 2007. Chavez in protest threatened to cut commercial and diplomatic ties with Spain, but ultimately did not.
Spanish businesses that operate in Venezuela include oil company Repsol and telecommunications company Telefonica.
Lopez, 43, was jailed in February on charges of masterminding anti-Maduro protests that raged for three months, stirring violent clashes that killed 43 people. Lopez's trial is currently underway.
Supporters, including his wife, Lilian Tintori, say Lopez is a scapegoat for protests borne out of frustration with a dictatorial government, failed economy, wasted oil revenues and daily hardships from product shortages and soaring prices.
Authorities say Lopez is a dangerous maverick directly responsible for killings and property damage during this year's protests, which they call a coup attempt against Maduro.
Recommended Reading :
* Colombia and Spain to share embassies abroad