Google offer free 1 minute phone calls between Spain - UK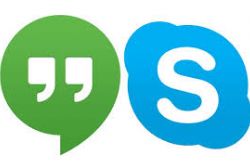 Expats can make phone calls of up to 1 minute between Spain and the UK free of charge for the remainder of 2014.
Every minute beyond the free 60 seconds will incur a charge.
Google's "Hangouts" service - launched in in May 2013 - has been constantly seeking new ways to improve both the quality of their service and visitor numbers in a bid to compete against Skype.
The Google Hangouts technical support page noted "For the rest of 2014, the first minute of most calls to 25 countries are free, and you'll be charged for each minute after. Calls where the first minute are free will say, 'First minute free' on the call screen. If you don't see this message, you'll be charged for the first minute".
However, there is a catch : To get the free minute option added to your Google Hangouts account, you first have to add calling credit to your Google account.
Other details hidden in the smallprint include the fact that when multiple calls are made at the same time, only 1 of the calls will be eligible, and users that make a large number of daily calls may not be eligible for the first minute free.
Calls can be made via the Hangouts app on Android and iOS, but you will need a "Google Voice" account to receive calls, text messages and voicemails.
Google Hangouts can also be used to call landlines and cell phones.
The first minute free option is available for the following countries: Australia, Belgium, Brazil, Canada, China, Dominican Republic, France, Germany, India, Indonesia, Ireland, Italy, Japan, Mexico, Netherlands, Norway, Peru, Poland, Russia, South Korea, Spain, Sweden, Switzerland, UK and USA.
The Hangouts service can be used from Gmail, Google+ and Google Chrome (extension), with a separate Hangouts phone call app for Android called Hangouts Dialer.
Recommended Reading :
* Sales of Google Play overtake Apple ios in Spain
* Spain to see Google Tax effective Jan 1st