Spain's Podemos overtakes PP in opinion poll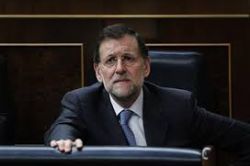 Podemos, a Spanish anti-austerity group set up less than a year ago, surged past PM Mariano Rajoy's People's Party to claim the lead in an El Pais opinion poll a year before Spain's next general election is due.
Support for Podemos jumped to 28% from 14% a month earlier, El Pais said today on its website. The main opposition Socialists were second with 26% compared with 31% in October, while the PP plunged from 30% to 21%.
Voters are punishing Rajoy's party amid a third wave of corruption allegations. The prime minister apologized last week after evidence showed party officials were taking kickbacks to hand out EU250 Mln of public contracts while he was administering the harshest budget cuts in Spain's democratic history.
Podemos grew out of the "indignados" movement that saw thousands of Spanish set up camp in Madrid's Puerta del Sol in 2011. It's led by Pablo Iglesias, a political science professor from Madrid's Complutense University who came to prominence in discussion programs on Spanish television. His collaborator, Juan Carlos Monedero, used to advise Hugo Chavez in Venezuela.
The group is calling for a program of public investment to create jobs. It also wants to cap the working week at 35 hours and lower the retirement age to 60 to redistribute job opportunities. The group proposes prohibiting profitable companies from firing workers and imposing a maximum wage.
Its program demands an audit of Spain's public debt to assess which part of it is "illegitimate" and giving euro area governments control over the ECB.
Metroscopia interviewed 1,000 people on Oct. 28 and 29. The margin of error was 3.2 percentage points. Rajoy's approval rating was 18%.
Recommended Reading :
* Rajoy : "Sorry for Corruption"