Spain accused of violating EU border laws in Ceuta and Melilla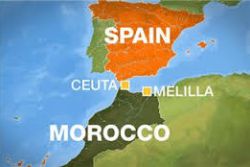 The European Commission is questioning whether the Civil Guard's immigration containment along Spain's African borders is legal.
Interior Commissioner Cecilia Malmström has sent a letter to Spain's interior minister, Jorge Fernández Díaz, expressing concern about the alleged beating of an African immigrant by a Spanish law enforcement officer on October 15, when a group of undocumented individuals were attempting to jump over the fence separating Moroccan territory from the Spanish exclave of Melilla.
"A practice of this sort constitutes a violation of EU legislation," concludes the commissioner in a letter to which EL PAÍS has had access, and whose tone is unusually severe compared with regular diplomatic communications.
The reproach is based on video footage released by the Melilla migrant support group Prodein, which shows a Civil Guard beating an immigrant, who falls off the fence, apparently unconscious, and is immediately returned to the Moroccan side.
The government delegation in the city claims that the Civil Guard officers were also assaulted by the migrants, and that the individual who appears in the video was not hurt.
Malmström also expressed concern about the Spanish government's plans to change immigration legislation and allow law enforcement officers to return undocumented migrants to Morocco on the spot. Amnesty International has said that immigrants' rights may be at risk from this practice.
The letter was sent on October 24. This Saturday Malmström will become trade commissioner in the new European Commission, a body that has refused to comment on her letter despite requests by this newspaper.
This is not the first time that Malmström and Fernández have clashed over Spain's policies in the exclaves of Ceuta and Melilla, which are routinely the object of massive crossing attempts by sub-Saharan migrants seeking to reach Europe.
Both officials had a well-publicized confrontation in February following the drowning of 15 migrants who were trying to reach Ceuta and were shot at with rubber bullets by the Civil Guard.
This year has marked a record for illegal immigration in Melilla, which 4,000 border transients have managed to reach. In the last decade, 28,000 people have outsmarted the border controls in Ceuta and Melilla despite the €140 million invested to stop illegal immigration.
Another 200 migrants attempted to cross into Melilla on Friday morning at 6.30am. A day earlier, a group of 20 people tried their luck, and on Wednesday at least three managed to enter Spanish territory. The temporary migrant shelter Centro de Estancia Temporal de Inmigrantes (CETI) is currently housing around 1,300 people, three times its official capacity.
Fernández Díaz has said at the Council of Europe that "Spain has the obligation to protect, patrol and safeguard its borders" and that his government exercises "full respect for human rights in connection with the humanitarian dimension of a phenomenon that is often tragic."
Recommended Reading :
* PP Seeks to legalise spot deportations of illegal immigrants
* UN Warns Spain on legality of sport deportations of illegal immigrants