Woman 'beheaded by her brother' in Costa del Sol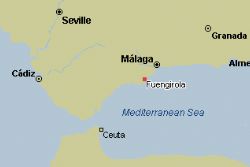 A woman in her twenties has died after her younger brother allegedly beheaded her at a home in the Costa del Sol region of Spain.
Police have detained a suspect who is Ecuadorian, according to Spanish media.
Conflicting reports suggest the woman is 22 or 25-years-old, while her alleged attacker has been aged at 22 or 19.
Several neighbours in the seaside town of Fuengirola called the police at around 9:15 am local time, Spanish newspaper Diario Sur reported.
Emergency teams who attended the scene found the woman had died at the residence near the town's promenade.
The man allegedly told police that the pair had been arguing, and called the police himself after the attack.
The woman's body was removed from the scene at 11:45am local time, according to the newspaper.
Recommended Reading :
* Spain prosecutes latin American crime gang