Spanish Military Invades Gibraltar Airspace (Again...)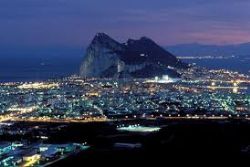 A BA flight bound for Gibraltar was forced to change course as it approached the Rock late last week, after being 'challenged' by a Spanish Air Force jet.
The Spanish military surveillance jet was flying in front of the civilian aircraft around 15 Miles from the British Overseas Territory when it "suddenly reversed its direction and took another course", prompting air controllers to take prompt action in ensuring that the BA flight changed course and remained at a safe distance.
A statement issued by the Government of Gibraltar confirmed that they are "Waiting for a full report on the incident, which will clarify whether the Spanish military plane made an incursion into the airspace over British Gibraltar territorial waters".
Britain's Foreign Office has recorded a significant increase in the number of incursions into British territorial waters since Spain's conservative PM Mariano Rajoy took office in December 2011.
In 2013 alone, Spanish state vessels made 496 illegal incursions in Gibraltar's territorial waters, according to the FO.
Spain severed air links with Gibraltar in 1954 following a visit by Queen Elizabeth II, which Madrid, then under military dictator General Francisco Franco, regarded as provocative. Air links between Spain and Gibraltar resumed in 2006.
Spain closed the road border in 1969, reopening it only in 1985, a decade after the dictator's death and one year before EU accession.
Spain secured a seat on the United Nations security council last month, where they had made little secret of their desire to make sovereignty of the Rock an issue for debate.
Coincidentally perhaps, the Stock Exchange of Gibraltar commenced operations for the first time on Monday.
Recommended Reading :
* Three-Quarters of Spain's fighter jets unable to fly
* UK Investigates Spanish invasion of Gibraltar airspace