Spain detains illegal immigrant Ebola suspects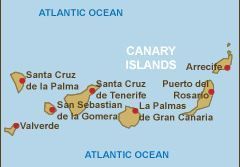 Spanish authorities detained a group of 23 undocumented migrants for nearly five hours on a beach in Maspalomas, on the Canary Island of Gran Canaria, on Wednesday while Spanish authorities decided whether to activate Ebola protocols.
Regional and national health authorities are blaming each other for the delay, alleging it was the other's responsibility to deal with the situation.
The African migrants had arrived on a small boat shortly before 9am, and were promptly assisted by Red Cross volunteers, who took their temperature and saw that six of them were running a high fever.
The non-profit organization decided to activate its own Ebola protocol and asked for help from the regional health department. During the four hours that doctors took to arrive, volunteers left face masks, food and water bottles on the sand for the immigrants.
The migrants were driven away in a garbage truck.
Meanwhile, local police made sure nobody got closer than 20 meters to the migrants. The officers themselves wore face masks and gloves but short sleeves.
When public health service doctors showed up, they questioned the migrants to find out whether they had recently been in Liberia, Sierra Leone or Guinea, the countries most directly affected by Ebola, and gave them the all-clear.
The four weakest individuals were taken away for medical treatment in a Red Cross jeep. The rest were loaded on to the back of a truck used for beach cleaning and driven to the local police precinct for identification prior to the beginning of deportation proceedings.
Red Cross coordinator José Antonio Rodríguez complained that a garbage truck was no way to transport human beings, while the mayor of San Bartolomé de Tirajana, Marco Aurelio Pérez, said no other four-wheel-drive vehicle large enough to carry so many people over the sandy terrain had been available.
"We had to get those men off the beach quickly, they'd been there five hours," he said. A similar case took place on October 1 at the holding center in Aluche, Madrid, where undocumented migrants were isolated for 19 hours without food on suspicion that some of them might have Ebola.
Recommended Reading :
* PP Seeks to legalise spot deportations of illegal immigrants
* Western Africa 'better plaed to combat Ebola than Spain'