Spanish court upholds charges of tax fraud against Princess Cristina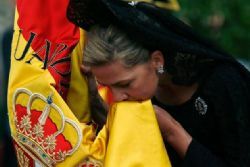 A Spanish court said on Friday it would uphold charges of tax fraud against Cristina de Borbon, 49, sister of King Felipe VI, in a graft probe which along with other high-profile corruption cases has eroded Spaniards' faith in their institutions.
However, the High Court of Palma de Mallorca added it would drop charges of money-laundering against the princess as part of an investigation into her husband Inaki Urdangarin's business dealings.
It is not clear yet whether Princess Cristina will face a judge as Spanish law allows the accused to escape trial if the victim of a crime - in this case the Spanish state - does not support the charges.
Investigations have unearthed high-level corruption across Spain involving players ranging from politicians to bankers and trade unions, and encompassing backhanders at town halls to unchecked spending on company credit cards.
The rulings from the High Court are one of the last steps before a trial that could require Princess Cristina to appear in court, prolonging the embarrassment of Spain's royal family under newly-crowned King Felipe VI.
Urdangarin, 46, a former Olympic handball player, is accused of using his connections to win public contracts to put on events through his non-profit Noos Foundation, and of embezzling millions of euros in public funds.
He has been charged with breach of legal duty, embezzling public funds, fraud, influence-peddling and money-laundering.
The couple, who have four children, have both denied wrongdoing.
Defense attorneys for Cristina de Borbon and Urdangarin appealed charges of tax fraud and money-laundering made by a lower Palma de Mallorca court in June.
The anti-corruption prosecutor of the Balearics, where the investigation is centred, has said repeatedly that he does not believe there is evidence that the princess committed a crime.
Under Spanish law, prosecutors can file briefs on behalf of the defence if they disagree with the examining magistrate investigating a case, who has a dual role as prosecutor and judge.
Former king, Juan Carlos, abdicated earlier this year in a surprise move which has helped salvage the monarchy's popularity after it lost favour following a series of scandals and incidents such as the former king's elephant hunting trip at the height of Spain's financial crisis in 2012.
Recommended Reading :
* Spain's Felipe VI to keep Royals out of private sector
* Spain to offer legal immunity to Royal family