Spain backs UK on EU justice decision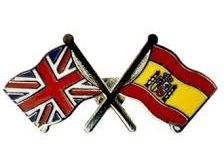 Spanish diplomats have hinted it may drop its veto against Britain's decision to remain part of a range of EU police and criminal justice agreements it otherwise would have to abandon next month, 3 sources said on Friday.
Spain's veto, which several European officials have said was driven by Madrid's centuries long dispute with Britain over Gibraltar, could have endangered information-sharing on terrorism and other security threats as well as British cooperation in fighting crime across Europe.
Until Madrid's change of heart this week, all other EU member states had backed a European Commission-brokered compromise in June to allow Britain to retain 35 measures.
Under the EU's 2009 Lisbon Treaty, the U.K. was allowed to opt out of 140 previous EU laws governing justice and police matters. UK PM David Cameron decided in 2012 to exercise that opt-out, which will come into effect Dec. 1.
However, Mr. Cameron's government said last year it wanted to hang onto 35 provisions that U.K. ministers say are vital to fighting crime and
To do that, the U.K. parliament must vote to readopt the measures December 1, and all EU other member states must agree the decision.
Among the provisions the U.K. wants to retain is the European Arrest Warrant, which allows warrants in one country to be carried out in other member states. UK membership in Europol, the EU's law enforcement agency that tracks criminal activities across the bloc, also hinges on Britain readopting the 35 laws.
The measures include a prisoner transfer agreement, membership of Eurojust-the bloc's judicial cooperation unit-and a system allowing British nationals to be bailed back to the UK.
Mr. Cameron faces a possible rebellion by some of his Conservative Party lawmakers in a vote on Monday over the opt-in, underlining deep resistance among his party's lawmakers about the reach of EU powers.
Opposition has centered on the European Arrest Warrant which some lawmakers say makes it too easy to send Britons for trial abroad. However the measure is expected to pass because of backing from Mr. Cameron's Liberal Democrat coalition partners and the opposition Labour Party.
During talks on Thursday and Friday in Paris and Brussels, a political deal was struck for Spain drop its veto, the diplomats said. "An agreement was reached…which would allow the U.K. to opt back in," said a Spanish diplomatic official. "After the compromise reached at the Council on the re-opt-in of the U.K…the House of Commons will vote next Monday."
A second European diplomat said the issue had been resolved, although there isn't a formal deal yet in place. A formal go-ahead from the European Council, the body which represents the EU's 28 member states, would likely only come next week after the U.K. parliamentary vote, a third person said.
Spain has been arguing that Britain should also opt back into some of the other laws it would still abandon, including a DNA, fingerprint and vehicle-registration database the U.K. government has declined right now. Spain argues the database is key to fighting terrorism and organized crime.
The U.K. has said it would run a small-scale pilot program for the databases, sharing information with other governments in specific cases. Several EU diplomats said last month that Spain's opposition to a U.K. opt-in is really driven by tensions with London over Gibraltar, the small British enclave in the Mediterranean sea. Spain and the U.K. have been at loggerheads over Gibraltar since 1704, when British forces captured the territory, which was then ceded to Britain in a 1713 treaty.
Recommended Reading :
* Spain certain UK backed its UN security council bid