Catalan Vote "Useless and Anti-Democratic"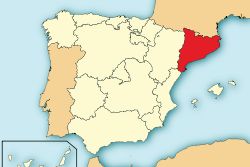 The national government of Spain have refereed to today's pseudo-referendum on Catalan independence as "useless" and an "anti-democratic exercise", according to EFE news agency.
Reports note how according to Madrid, the attitude of Catalonia's President, Artur Mas, "make the future very complicated", and that the polls were invalid and did not bear any political advantages for the region.
PM Mariano Rajoy spent the day polling day at his official residence, the Moncloa palace, from where he has monitored developments at the polls, where residents of Catalonia aged 16 and over are answering two questions: "Do you want Catalonia to become a state?" and "If so, do you want Catalonia to be an independent state?"
By 1pm lunchtime over 1.1 million Catalans had cast their vote.
The Spanish government considers the vote illegal and tried to block it by filing complaints to the Constitutional Court. However, Catalan President Artur Mas has stated that Catalonia will carry out the consultation despite the central government's protests.
Recommended Reading :
* Catalan independence hopes high in symbolic vote on split from Spain