Cameron backs united Spain after symbolic Catalan vote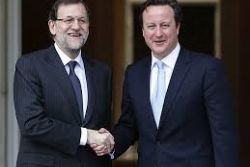 The UK wants Spain to stay united and any referendum to decide whether Catalonia becomes independent should be done through the proper constitutional framework, Prime Minister David Cameron said on Monday.
Catalonia's long-standing breakaway movement was buoyed by a Scottish independence campaign even though Scots ultimately voted to remain part of the United Kingdom in a September referendum, a result Cameron welcomed.
On Sunday, millions of Catalans voted in a symbolic referendum on independence from Spain that supporters hope will give the issue further momentum despite opposition from Madrid.
The Spanish government argues that Catalonia, which accounts for one-fifth of Spain's economic output and makes up about 16% of Spain's population, cannot decide something which affects Spain as a whole on constitutional grounds.
"Britain is a friend and a great ally of Spain ... we want Spain to stay united and to stay together," Cameron told business leaders at a conference in London when asked what advice he would offer Spain following his experience with the Scottish referendum.
"Our belief about referendums ... is these things should be done through the proper constitutional and legal frameworks. They should be done within them, and not outside them."
Recommended Reading :
* Catalan vote 'Useless and Anti-Democratic'
* Catalan Independence jopes high in symbolic vote on split from Spain