Spain launches corruption raid against local Gov't offices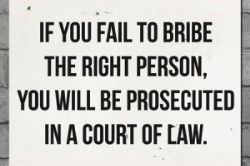 Law enforcement officers searched local government offices in 13 Spanish provinces today as part of a crackdown on corruption by politicians and officials.
The operation, headed by an investigating magistrate from the southern city of Seville, targeted the city council offices there and in several other towns in the Andalusia region, the Guardia Civil said.
Government offices in Barcelona, Valencia and several provinces in the Canary Islands were also among those raided as part of an investigation into whether municipal authorities took kickbacks from private companies to win contracts.
Officers were expected to make many arrests.
The operation is the latest in a string of high-level cases which involve members of the royal family, politicians, bankers and trade unions, and encompasses backhanders at town halls to unchecked spending on credit cards.
Spanish PM Mariano Rajoy last month apologised for corruption scandals affecting members of his ruling Partido Popular. Politicians from across the spectrum have also been accused, damaging the popularity of mainstream parties.
A new anti-establishment party meanwhile, Podemos, or 'We Can' in Spanish, has surged in opinion polls on the back of voter disillusion over corruption and the government's handling of a six-year economic slump.
Rajoy said he would announce further measures to tackle corruption in parliament later this month.
More than 30 people could be arrested as a result of today's raids, the Guardia Civil said. Some would be charged with tax offences, money laundering and falsification of documents on the back of the operation, it said.
Recommended Reading :
* Rajoy : "Sorry for Corruption"